Algorithm Assisted Crowd Sourced Mapping
Crowd sourced mapping, that is using many people (who may typically be volunteers) to map areas, has been used before in many disaster situations. Recently there have been developments whereby the information collected by these people is being automatically validated by algorithms. This is a step change in this approach to disaster mapping. The algorithms are helping to speed up the process for a disaster response situation such as the recent hurricanes that affected the Caribbean in autumn 2017. The aim is to generate more reliable and certain data sources.
In September 2017 hurricanes Irma and Maria had a devastating impact on several Caribbean islands. In order to support and assist the rescue effort many people have, remotely from all over the world, provided information and goodwill in a number of different ways. Citizen Science can be considered as public participation in scientific research: in this case by assisting with map making. The Citizen Science movement has helped to assist with a coordinated disaster response. These responses and how they are evolving will be considered after reviewing two of the hurricanes that have caused much disruption, destruction and loss of life in the Caribbean region during the autumn.
Hurricane Irma was a very powerful Atlantic storm that has caused widespread destruction across the Caribbean and southern USA. The storm was, at times, a category 5 hurricane with wind speeds up to 295km/h (185mph). It had a path that crossed many Caribbean islands and affected around 1.2 million people. It struck around the 6 September. The islands of Antigua and Barbuda, Anguilla, The Virgin Islands, Turks and Caicos, Cuba and other islands were all affected before the storm moved towards Florida on the USA mainland. It continued to Georgia and South Carolina where it weakened.
Irma damaged or destroyed more than 90% of structures on Barbuda. The hurricane had top wind speeds that tied with the second-strongest maximum winds of all time for an Atlantic hurricane and had sustained 185 mph maximum wind speed for a long period: 37 hours according to this Colorado State University fact sheet. It was a category 5 hurricane for a lifetime of 3.25 days which was also a tie for that record. A combination of factors led to it being so strong: one of these was the heat of the water, others being mid-level humidity levels and powerful vertical winds generated by strong temperature imbalances. An incredible amount of rainfall was recorded including up to 274mm per hour at the eye of the storm. The storm had closely followed Hurricane Harvey from a few days before and was to be followed by another storm – Hurricane Maria.
When Maria Followed Irma
On the 19 September another Hurricane followed Irma: Hurricane Maria took a slightly different route but also greatly affected the Caribbean. It increased in strength before hitting the island of Dominica and moving towards Guadeloupe and the Virgin Islands (again). It also went on to cause considerable damage in Puerto Rico.
Rescue Global is a charity that aims to save life especially in vulnerable regions. They are a non-government organisation that is working globally to provide Disaster Risk Reduction and Response (DRR&R). It ensured that aerial imagery was acquired in order to assess the hurricane damage. This was then used to determine what the most suitable response would be in the islands that had been affected by the extreme weather. The Planetary Response Network was activated to get satellite data from a number of different sources and make it available to volunteers and other relevant groups.
Examples of mapping projects that have greatly assisted with the aftermath of the hurricanes include Humanitarian Open Street Map and Tomnod. Tomnod is a team of volunteers who identify important objects and places of interest, in this case disaster zones, from satellite images. They use images of the changing planet. The Humanitarian Open Street Map operation specifically generates timely maps following disasters around the world. These maps are used to assist both on the ground and for ongoing disaster support after an event such as a hurricane, flood or earthquake.
The initial analysis is carried out by volunteers looking at newly acquired satellite imagery from the storm damaged area. The volunteers mark destroyed houses, blocked roads and other real world features such as temporary settlements after the storm has passed. This can assist with on the ground support as new maps can be generated very rapidly. The mapping operation allows almost real-time information to be shared through a team of volunteers.
After people have completed their analysis a new stage is enacted with the Machine Learning Research Group at Oxford running the results through machine learning algorithms. "These algorithms can quickly resolve inconsistent responses, bring all the data together and integrate information derived from other crowdsourced mapping sources, such as the Humanitarian OpenStreetMap and Tomnod." The Conversation (October 18 2017).
Geospatial techniques are used to process the results and provide reliable information for those on the ground. For example these maps will highlight areas that have been affected by flooding, storm surges or maybe areas where many buildings have been affected or destroyed. This information can really assist those on the ground to focus on the worst affected areas. It can also mean that aid is initially directed to areas in most need. Other areas may have differing needs later on, such as healthcare, especially when there is humid stagnant water that can cause disease after a day or more after the event.
The finished maps can be viewed here on the Zooniverse web site which also includes some details of the approach used. Some of the images from Dominica are shown below.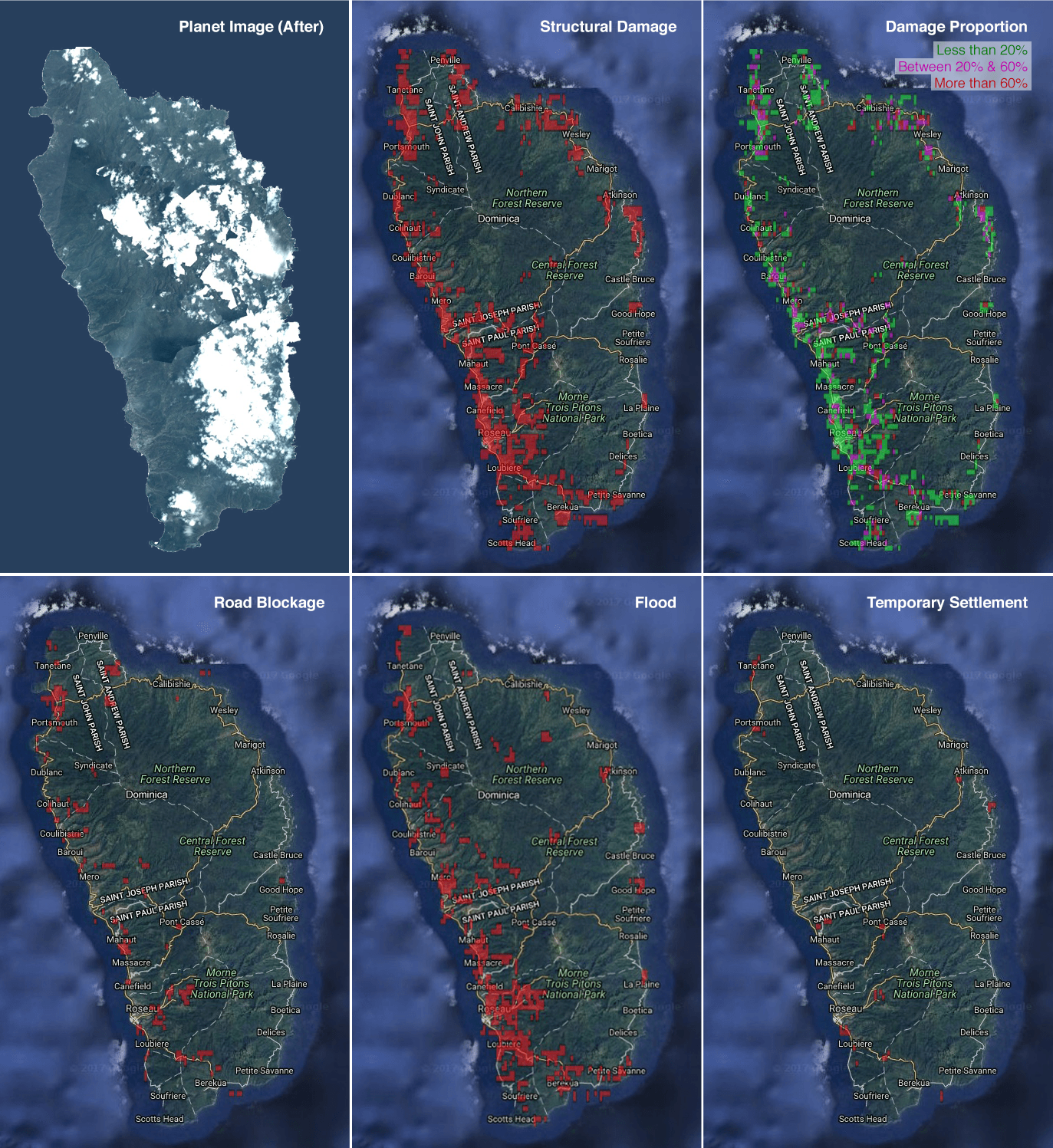 © Copyright Zooniverse.org.
The work by organisations such as Rescue Global can benefit others who may never even appreciate that their initial mapping activities have assisted the international rescue teams. The power of the crowd to review maps along with intelligent algorithms that help to assess the data captured by volunteers is a tremendous boost to disaster response and ongoing support. The algorithms and computer platforms have recently evolved to greatly assist and support very rapid responses. It is getting to the point where preemptive response planning is becoming a reality. An example of this was seen after Irma and when it was obvious that Maria was about to hit some of the same islands again.
There is much work ongoing in the aftermath of the two hurricanes and hopefully the rapid response of the crowd sourced mapping will have helped with the initial disaster response. The new approach to use algorithms to validate that crowd sourced data will mean an improvement in how it is collected. Continuing disaster responses can still be based upon the information collected and analysed in the earlier days once the hurricane has passed. This may include the reinstatement of power supplies and other essential infrastructure as required.