This month, this blog considers some major climate solutions. The first solution is the removal of coal fired power stations. The shift to renewables will potentially cause a changes to geopolitics. Secondly, two natural solutions remove carbon from the atmosphere in the UK. They are an innovative seagrass restoration pilot project and a Northern Forest scheme. The latter aims to have millions of trees planted.
Coal Fired Electrical Generation Costs Rising
It is now more expensive to burn coal to generate electrical power than to use renewable sources of power. This Carbon Tracker report highlights this fact and others. Generating costs are higher in 60% of plants than they would be from new renewable energy sources. In 10 years time it will be cheaper to close down coal plants and build wind and solar plants instead. Over half of coal plants operating today cost more to run than building the equivalent power generation capacity based upon new renewable power sources.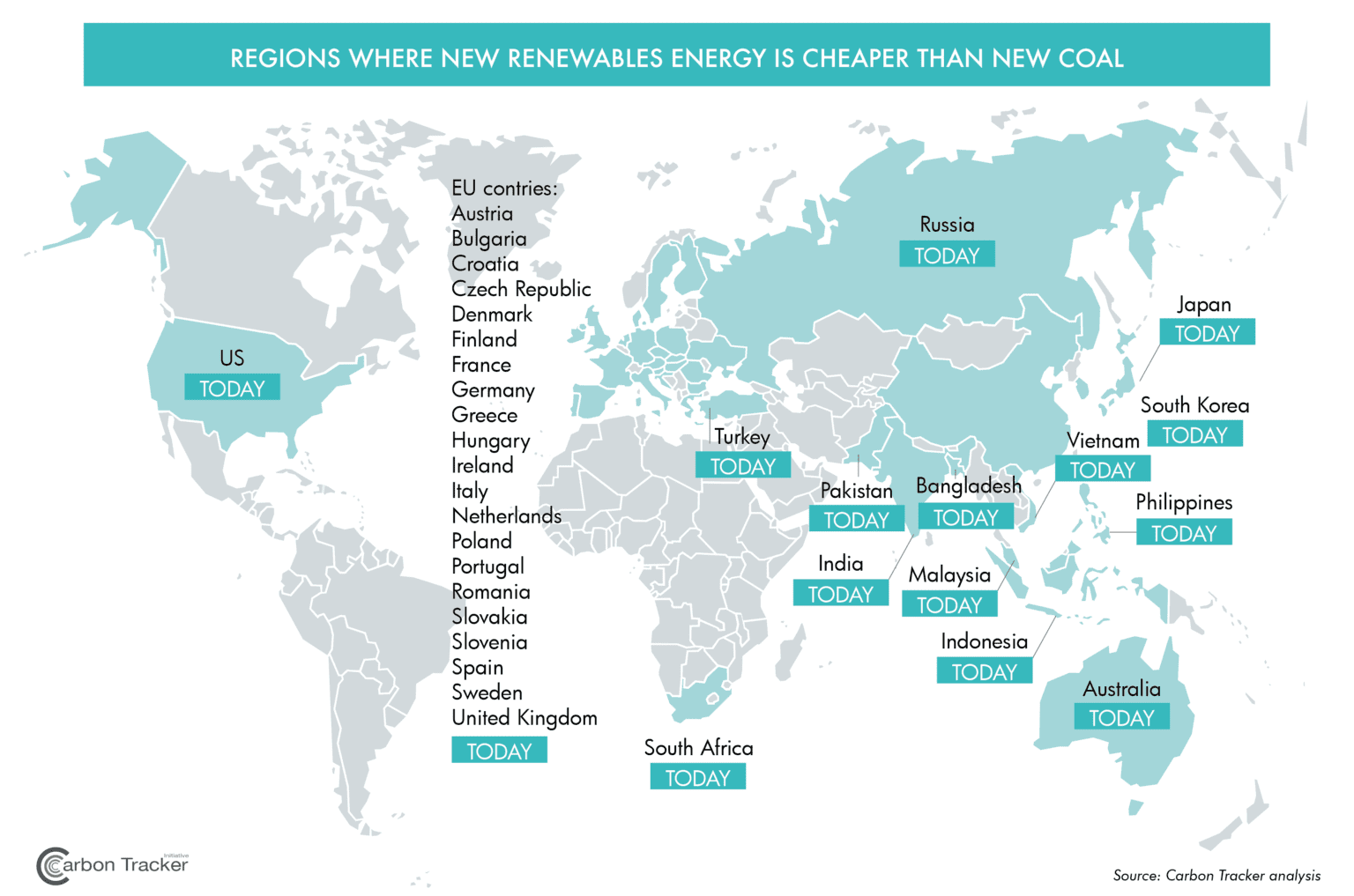 Countries Where Renewables Are Already Cheaper Than Coal © Carbon Tracker 2020.
Close A Coal Fired Plant Every Day
In order to combat climate change effectively one coal plant has to retire every day until 2040. With coal fired power station projects still being planned there is a risk that almost $600 billion will be wasted in investment in a technology that is rapidly becoming too expensive.
Additional details can be found on this BBC report.
Getting Ready For The Geopolitical Shift
A joint report from International Renewable Energy Agency (IRENA) and the Carbon Tracker highlights a profound geopolitical shift. The transformation of the global power supply to renewable energy systems will have an impact on the geopolitical situation. Advances in technology along with falling costs has lead to rapid increases in the renewable power sources. Many renewable technologies are now cost-competitive with fossil fuels in the power sector. The renewable sources of power also benefit improvements in air pollution and assist with reducing emissions to combat climate change.
Renewable sources of power that lead a global energy transformation will have significant geopolitical implications. There will be changes to relations between sovereign states which will lead to fundamental structural changes in economies and society. As power generation becomes more decentralised and diffused the states that control fossil fuels will have a lesser influence than they previously had. Countries such as China will see an increased influence as they have invested in renewable technologies. Other states that do not adapt to the energy transition will face risks and lose influence. Some developing states will be able to leap frog fossil fuels to adopt new technologies. It is likely that conflicts based upon fossil fuel energy sources will decline.
Natural Solutions To Climate Change
Seagrass Revival
Up to 92% of the UK's seagrass has been lost over the last century mainly due to population growth, pollution from sewage and agriculture and dredging. Now a pilot project between the University of Swansea, the World Wildlife Fund and Sky Ocean Rescue intends to replace the lost seagrass. Restoration of the unique habitat dramatically captures carbon at an "extraordinary rate". Seagrass supports a myriad of amazing species, food that we eat and removes carbon from the environment. The pilot project aims to create a model that could support a large-scale seagrass restoration around the UK shores. Seagrass is an effective carbon capture mechanism as it can store carbon 35 times faster than tropical rain forests.
Tree Planting: A Northern Forest
Tree planting is one way to store carbon and produce oxygen, it can help to reduce the impact of flooding in the right location. Trees have an additional benefit of making people happier and healthier. Wellbeing is one benefit. Planting new forests with millions of trees creates thousands of new jobs.
A scheme to plant 50 million trees in the north of England is known as the Northern Forest. It began in 2018 and consists of several more local initiatives including Manchester's "City of Trees". The latter aims to plant at least one tree per resident of the large city within a generation. In Leeds city region there is the White Rose Forest.
Tree planting on this scale will transform the north of the UK which has existing tree cover of around only 7.6% of land cover. This figure is behind other English areas and the Northern Forest will significantly increase the woodland cover. There are plans to protect ancient woodlands and create new woods through significant tree planting.
Conclusion
This article highlights some of the options that will improve the environment. There could be changes to geopolitics as a result of a major shift to increasingly competitively priced renewable energy sources. Other health benefits will result from changes highlighted here.